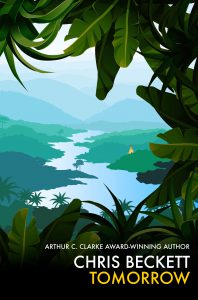 My stories have been appearing in magazines and anthologies since 1990.  I have published nine novels and three short story collections.  The Turing Test won the Edge Hill Short Fiction Award in 2009.  Dark Eden was  the winner of the 2012 Arthur C. Clarke award.
My latest short story collection is Spring Tide.   My latest novel, as of 1st July 2021, is Tomorrow.  My previous novel was Two Tribes.

This site provides details of all my published books and short stories, including audio-books.  I am a somewhat intermittent blogger.  Blog posts which I think might be of slightly more enduring interest than the others are marked as BEST POSTS.
ISOLATION STORIES: I put up some free stories for self-isolated people, during the first UK Covid-19 lockdown.  They are still there.
My approach to writing:

Special message for people who don't read SF.
It's not my job to exaggerate the ugliness of rival tribes