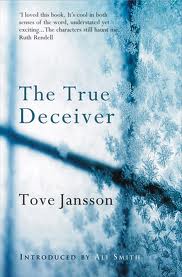 As a child I loved the Moomintroll books by Tove Jansson.  She created (both in words and in pictures) an utterly absorbing and intricate world that was comforting, yet mysterious and not without sadness.  They were like nothing else and I found them completely enchanting.
It's nice to have one's childhood judgements confirmed.  I recently read one of her adult novels – published in English as The True Deceiver – and I found it just as absorbing and fascinating as I had found her children's books, and just as original (I have never read anything like it).
The main protagonist, Katri, is a strange solitary woman with yellow eyes who despises friendliness and the ordinary pleasantries of life as being fake and dishonest.  She doesn't even give a name to her dog.  The book deals with Katri's relationship with an elderly and wealthy writer of children's books who likes to be seen as likeable and nice.   Slowly they change one another.
It is much darker than the children's books, and yet has a lot in common with them too:  its creation of an absorbing world, evoked in a wonderfully concrete and quite sensual way, its evocation of a Nordic spring, emerging from under ice and snow, its interest in solitude and integrity…  (The Moomin books include many proud and solitary characters too).
Quite brilliant!   The Summer Book is great too.