---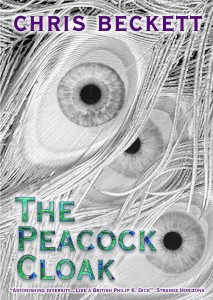 '….another bracing assortment of tales told with a jaundiced eye but compassionate heart…'  James Lovegrove, Financial Times.
A new collection, published by the excellent Newcon Press.  It includes all the stories  written since the publication of The Turing Test.
The following are the 12 stories in the order in which they appear in the book.  The links will take you to miscellaneous thoughts about the stories, what they mean to me, and/or where they came from.  Personally, I'd read the stories themselves first.
Atomic Truth
Two Thieves
Johnny's New Job
The Caramel Forest
Greenland
The Famous Cave Paintings on Isolus 9
Rat Island
Day 29
Our Land
The Desiccated Man
Poppyfields
The Peacock Cloak
The cover design is based on the illustration  by Eugene Kapustiansky for the Russian translation of the title story which appeared in Esli magazine.
Collectors: the signed, numbered hardback edition is available direct from Newcon Press.
»» Find out more! »»
---
Gela's Ring is the sequel to Dark Eden.  Currently a work in progress, it will be published initially as a serial, over twelve months from Easter 2013 in the new on-line magazine Aethernet.   It will be published by Corvus in book form in 2014,
The book is set some two centuries after the events in Dark Eden, and follows Starlight Brooking, a young woman from a small island community founded by Jeff Redlantern, as she encounters the new, powerful, and mutually hostile societies – followers of John Redlantern and followers of David Redlantern – that came into being after the break-up of the original human community in Circle Valley that had called itself simply Family.
At the centre of events is the ring from Earth that was given by her parents to Angela Young -  Gela – the woman from whom everyone in Eden is descended, the mother of them all.
»» Find out more! »»
---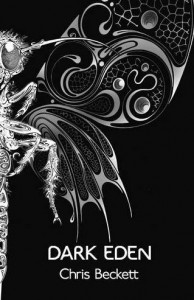 "a captivating and haunting book." Harry Ritchie, Daily Mail
"dazzlingly inventive… superbly well paced and well written… packed with ideas." A N Wilson, Reader's Digest
"..a stunning novel and a beautiful evocation of a truly alien world."  Alison Flood, Sunday Times.
SUNDAY TIMES SF NOVEL OF THE YEAR, 2012.

SHORTLISTED FOR BSFA AWARD.
WINNER OF ARTHUR CLARKE AWARD.
Five hundred people live in in single community in an enclosed valley on the sunless planet Eden where, over a century ago, their two ancestors were marooned.
Calling themselves Family, they still cling to the hope that one day someone will come and bring them back to Earth, where light and heat does not come from trees, but from a bright star in the sky.
John Redlantern defies Family's most sacred traditions and leads a small group of followers out of the valley and across mountains that are not only covered in snow and ice, but are completely dark,  in search of wider lands.   It had to happen but it comes at a terrible price, for it brings bloodshed and division into the world.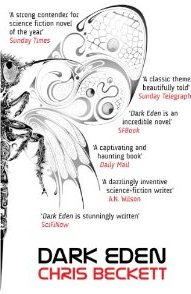 A novel about how people relate to the past and how they move forward into the future..
Published by Corvus.
Paperback  Waterstones /  Amazon UK /   Amazon US
Hardback  Amazon UK / Amazon US
Kindle edition (UK)
---
"A triumph." Paul di Filippo, Asimov's SF.
"…the sparse prose and acute social commentary of a latter-day Orwell…"  Eric Brown, The Guardian.
"This isn't just good sf – this is the kind of sf that should be written, that we ought to be out on the streets outside publishers demanding should be written…" – Gary Gibson
George Simling lives in Illyria, a city state founded by scientists and other refugees from the religious fundementalism that has swept the rest of the world.  But Illyria is getting just as intolerant and narrow-minded as the countries that its inhabitants fled from.
George's guilty secret is his obsession with Lucy, a syntec, a robot built for sex.  When Lucy shows signs of self-awareness, George has two choices: to allow her to be 'wiped clean' (to have her emerging mind erased) or to escape with her to the outside world, the 'Outlands'.  But there she will have to pass herself off as human, or face certain destruction, because to Outlanders robots are demons, abominations, mockeries of God's creation.
George sets out on a journey that leads him, through betrayal and madness, to the monastery of the Holy Machine, in a story that reflects on science and religion and the relationship between body and soul.  (Published by Corvus).
»» Find out more! »»
---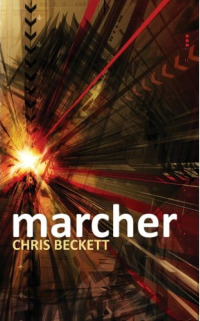 Charles Bowen is an immigration officer with a difference: the migrants he deals with don't come from other countries but from other universes. Known as shifters, they materialize from parallel timelines, bringing with them a mysterious drug called slip which breaks down the boundary between what is and what might have been, and offers the desperate and the dispossessed the tantalizing possibility of escape.
When a shifter-led gang commits murder in the name of the old Norse pantheon and then uses slip to escape justice, Charles and his girlfriend Jaz decide to cross to another universe themselves in a bid to confront the problem at source and prevent their own society from degenerating into tyranny.
But is that Charles' real motive, or does he have reasons which even he can't clearly see?
»» Find out more! »»
---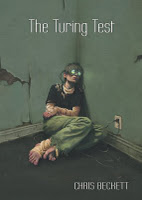 A collection of 14 short stories.  WINNER OF THE EDGE HILL SHORT FICTION AWARD 2009, and the Edge Hill Readers' Prize.
NB: Though Elastic Press is no longer in business, this book is STILL IN PRINT.  It is also available on Kindle.
Comments from James Walton, Chair of Edge Hill panel of judges:
'I suspect Chris Beckett winning the Edge Hill Prize will be seen as a surprise in the world of books. In fact, though, it was also a bit of surprise to the judges, none of whom knew they were science fiction fans beforehand. Yet, once the judging process started, it soon became clear that The Turing Test was the book that we'd all been impressed by, and enjoyed, the most – and one by one we admitted it.
'This was a very strong shortlist, including one Booker Prize winner in Anne Enright, and two authors who've been Booker shortlisted in Ali Smith and Shena Mackay. Even so, it was Beckett who seemed to us to have written the most imaginative and endlessly inventive stories, fizzing with ideas and complete with strong characters and big contemporary themes. We also appreciated the sheer zest of his story-telling and the obvious pleasure he had taken in creating his fiction.'
The Turing Test at Waterstones /Amazon UK / Amazon US
Kindle version: Amazon UK / Amazon US
»» Find out more! »»