---
My third short story collection differs from the previous collections in two respects.  Firstly, all the stories are original to this book and have never appeared in print before.  Secondly, this book will represent my first published foray outside of the parameters of science fiction.  Some of the 21 stories in this book include fantastical elements, but none of them (at least according to my definition) could be described as SF.
From Corvus, early 2018.
---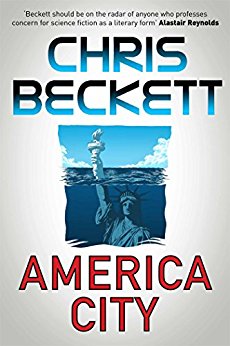 The United States a century in the future.   As a result of climate change, powerful hurricanes hit the east coast every year, each time a little further north.  And large areas of the southern half of the US have insufficient water, meaning that many towns and cities, and whole swathes of farmland, are no longer viable.  Each year a steady stream of refugees from southern states heads north, but they meet an increasingly frosty welcome, and some northern states are threatening frontier controls to keep them out.
Holly Peacock, a bright young British PR professional who has settled in the US, begins to work for a charismatic US Senator called Stephen Slaymaker, who rose from poverty via army service in Africa, to build up one of America's largest trucking businesses.  Slaymaker is campaigning for a huge government-funded programme to shift the American population northwards, and so prevent the north-south divide from tearing America apart.    When Slaymaker stands for President, this Reconfigure America programme is at the core of his platform and Holly's job is to win support for it.
But how to sell the idea to northern voters that they should welcome in millions of refugees from the south, and pay for it too in their taxes?  Working closely with Slaymaker, Holly finds a way, but it involves fighting dirty and has catastrophic consequences which she didn't anticipate at all.
From Corvus: November 2017
---
"A compelling finale to an award-winning saga" Guardian
Daughter of Eden is set more than two centuries on from the events in Dark
Eden, only ten years after the events in Mother of Eden but on the opposite side of the great rift in the human society of Eden that occurred in the original book.
Mother of Eden described Starlight Brooking's experiences among the descendants of those who followed John Redlantern.  Daughter of Eden follows Starlight's childhood friend Angie who lives among the Davidfolk, the descendants of those who remained loyal to John's great enemy, David Redlantern.
Angie, who left her original home to be become a shadowspeaker, witnesses two cataclysmic events that will change the course of Eden's history.
Guardian review in full here (includes some spoilers!)
More early reviews here from Gareth D Jones in SF Crowsnest, and here on the book blog For Winter  Nights.
Some thoughts of my own about this book here.
---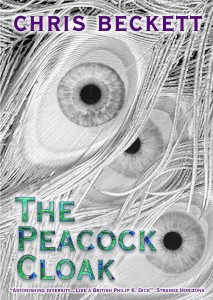 '….another bracing assortment of tales told with a jaundiced eye but compassionate heart…'  James Lovegrove, Financial Times.
A new collection, published by the excellent Newcon Press.  It includes all the stories  written since the publication of The Turing Test.
The following are the 12 stories in the order in which they appear in the book.  The links will take you to miscellaneous thoughts about the stories, what they mean to me, and/or where they came from.  Personally, I'd read the stories themselves first.
Atomic Truth
Two Thieves
Johnny's New Job
The Caramel Forest
Greenland
The Famous Cave Paintings on Isolus 9
Rat Island
Day 29
Our Land
The Desiccated Man
Poppyfields
The Peacock Cloak
The cover design is based on the illustration  by Eugene Kapustiansky for the Russian translation of the title story which appeared in Esli magazine.
»» Find out more! »»
---
"We speak of a mother's love, but we forget her power. Power over life. Power to give and to withhold."
"A masterpiece"  The Guardian
Shortlisted for BSFA Best Novel 2015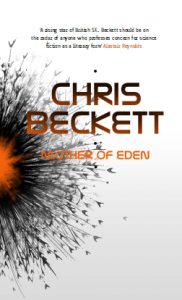 Generations after the breakup of the human family of Eden. the Johnfolk emphasise knowledge and innovation, the Davidfolk tradition and cohesion. But both have built hierarchical societies sustained by violence and dominated by men – and both claim to be the favoured children of a long-dead woman from Earth that all Eden knows as Gela, the mother of them all.
When Starlight Brooking meets a handsome and powerful man from across Worldpool, she believes he will offer an outlet for her ambition and energy. But she has no idea that she will be a stand-in for Gela herself, and wear Gela's ring on her own finger.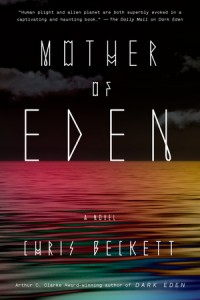 And she has no idea either of the enemies she will make, no inkling that a time will come when she, like John Redlantern, will choose to kill.
French and Polish editions forthcoming.
UK paperback out on April 7th, 2016
Review on Fantasyliterature.com.
---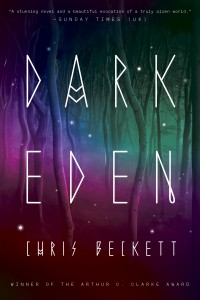 EARLY BLOG REVIEWS FOR NORTH AMERICAN EDITION HERE.
"a captivating and haunting book." Harry Ritchie, Daily Mail
"dazzlingly inventive… superbly well paced and well written… packed with ideas." A N Wilson, Reader's Digest
"..a stunning novel and a beautiful evocation of a truly alien world."  Alison Flood, Sunday Times.
SUNDAY TIMES SF NOVEL OF THE YEAR, 2012.

WINNER OF ARTHUR C. CLARKE AWARD.
Five hundred people live in in single community in an enclosed valley on the sunless planet Eden where, over a century ago, their two ancestors were marooned.
Calling themselves Family, they still cling to the hope that one day someone will come and bring them back to Earth, where light and heat does not come from trees, but from a bright star in the sky.
John Redlantern defies Family's most sacred traditions and leads a small
group of followers out of the valley and across mountains that are not only covered in snow and ice, but are completely dark,  in search of wider lands.   It had to happen but it comes at a terrible price, for it brings bloodshed and division into the world.
A novel about how people relate to the past and how they move forward into the future..
Published by Corvus in UK, Broadway in US.  Also available in French, Polish and Russian

Paperback: Amazon UK /  Amazon US /  Amazon Canada
Kindle edition (UK)
Polish edition (Ciemny Eden)
Russian edition (во тьме здема)
»» Find out more! »»
---
"A triumph." Paul di Filippo, Asimov's SF.
"…the sparse prose and acute social commentary of a latter-day Orwell…"  Eric Brown, The Guardian.
"This isn't just good sf – this is the kind of sf that should be written, that we ought to be out on the streets outside publishers demanding should be written…" – Gary Gibson
George Simling lives in Illyria, a city state founded by scientists and other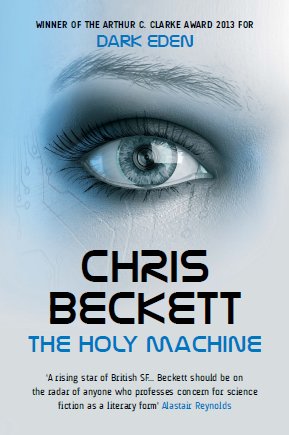 refugees from the religious fundementalism that has swept the rest of the world.  But Illyria is getting just as intolerant and narrow-minded as the countries that its inhabitants fled from.
George's guilty secret is his obsession with Lucy, a syntec, a robot built for sex.  When Lucy shows signs of self-awareness, George has two choices: to allow her to be 'wiped clean' (to have her emerging mind erased) or to escape with her to the outside world, the 'Outlands'.  But there she will have to pass herself off as human, or face certain destruction, because to Outlanders robots are demons, abominations, mockeries of God's creation.
George sets out on a journey that leads him, through betrayal and madness, to the monastery of the Holy Machine, in a story that reflects on science and religion and the relationship between body and soul.  (Published by Corvus).
Also available as an audio book.
»» Find out more! »»
---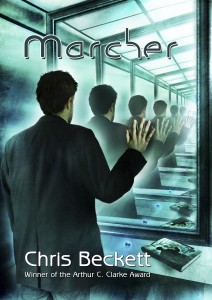 Charles Bowen is an immigration officer with a difference: the migrants he deals with don't come from other countries but from other universes. Known as shifters, they materialize from parallel timelines, bringing with them a mysterious drug called slip which breaks down the boundary between what is and what might have been, and offers the desperate and the dispossessed the tantalizing possibility of escape.
Growing out of short stories such as 'Tammy Pendant', 'To Become a Warrior' and 'The Welfare Man', Marcher was originally published  in the US under the Cosmos imprint.   It is now available in a new and extensively revised edition, as of August 2014 from Newcon Press.  (More details here.)
"One of the best SF novels of the year" (Colin Harvey, Suite 101, reviewing the original Cosmos edition of Marcher)
Marcher on Amazon UK.   Marcher on Amazon US
»» Find out more! »»
---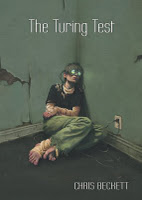 A collection of 14 short stories.  WINNER OF THE EDGE HILL SHORT FICTION AWARD 2009, and the Edge Hill Readers' Prize.
NB: Though Elastic Press is no longer in business, this book is STILL IN PRINT.  It is also available on Kindle.
Comments from James Walton, Chair of Edge Hill panel of judges:
'I suspect Chris Beckett winning the Edge Hill Prize will be seen as a surprise in the world of books. In fact, though, it was also a bit of surprise to the judges, none of whom knew they were science fiction fans beforehand. Yet, once the judging process started, it soon became clear that The Turing Test was the book that we'd all been impressed by, and enjoyed, the most – and one by one we admitted it.
'This was a very strong shortlist, including one Booker Prize winner in Anne Enright, and two authors who've been Booker shortlisted in Ali Smith and Shena Mackay. Even so, it was Beckett who seemed to us to have written the most imaginative and endlessly inventive stories, fizzing with ideas and complete with strong characters and big contemporary themes. We also appreciated the sheer zest of his story-telling and the obvious pleasure he had taken in creating his fiction.'
The Turing Test at Waterstones /Amazon UK / Amazon US
Kindle version: Amazon UK / Amazon US
»» Find out more! »»