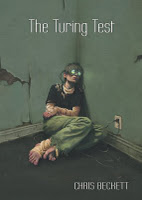 A collection of 14 short stories.  WINNER OF THE EDGE HILL SHORT FICTION AWARD 2009, and the Edge Hill Readers' Prize.
NB: Though Elastic Press is no longer in business, this book is STILL IN PRINT.  It is also available on Kindle.
Comments from James Walton, Chair of Edge Hill panel of judges:
'I suspect Chris Beckett winning the Edge Hill Prize will be seen as a surprise in the world of books. In fact, though, it was also a bit of surprise to the judges, none of whom knew they were science fiction fans beforehand. Yet, once the judging process started, it soon became clear that The Turing Test was the book that we'd all been impressed by, and enjoyed, the most – and one by one we admitted it.
'This was a very strong shortlist, including one Booker Prize winner in Anne Enright, and two authors who've been Booker shortlisted in Ali Smith and Shena Mackay. Even so, it was Beckett who seemed to us to have written the most imaginative and endlessly inventive stories, fizzing with ideas and complete with strong characters and big contemporary themes. We also appreciated the sheer zest of his story-telling and the obvious pleasure he had taken in creating his fiction.'
The Turing Test at Hive UK/Waterstones /Amazon UK / Amazon US
Kindle version: Amazon UK / Amazon US
Reviews:
"When Chris Beckett's The Turing Test won the Edge Hill Short Story Prize this summer it surprised a lot of people — including, apparently, the judges, none of whom had previously rated science fiction. In addition to £5,000 for first place, Beckett also took the £1,000 Readers' Prize, voted for by MA creative writing students and local reading groups, against competition from better-known authors such as Anne Enright (second place), Gerard Donovan, Shena Mackay and Ali Smith.  If that doesn't make you want to read his book, I don't know what will. The short story has been on the endangered list for some time. While it's understandable if people prefer something that will keep them engrossed for days, any list of the best work in the genre must include short stories by writers such as Ray Bradbury, Philip K. Dick and Theodore Sturgeon. Like these writers, Beckett not only comes up with good ideas and clever plot twists but also has the subtlety and emotional intelligence to make human sense of them. While he is exploring other worlds, virtual realities and artificial intelligence, he reveals the impact of his notions on people like us, offering snapshots of loneliness, love and danger. That is what gives his stories their impact and makes them stick in the mind." – Lisa Tuttle, The Times.
"Aficionados of the genre will know Beckett for his intellectually rigorous and entertaining short fiction, and this outstanding collection should bring him to the attention of a wider audience. His preoccupation is with identity and self-perception: in more than one story, characters question notions of themselves and their place in reality. He's good at delineating the psychology of the outsider, and brilliant at depicting artificial intelligence and humanity's relation to it." – Eric Brown, The Guardian
"As a collection, The Turing Test should satisfy readers interested in well-plotted stories centered around interesting characters. A majority of the tales respect and explore the "classical" themes of and approaches to science fiction; they will probably not fulfill the expectations of readers seeking more boundary-pushing, genre-crossing speculative fiction. However, Beckett's finely constructed short fictions are not as straightforward as they always appear, and taken as a whole, they create a kind of consensual field of possibility as rich as any VR, and in which one may lose oneself just as readily." – Alvaro Zinos-Amaro, The Fix Online
"The Turing Test is a fine collection of short stories by Chris Beckett, which examine the nature of reality and especially what it is that makes us human. Now that all sounds like it's going to be a little on the heavy side and full of existential angst when in fact Beckett has produced fourteen stories, which, whilst they are thought provoking, are also immensely entertaining. These are stories with many possible layers. So, if you like spaceships and robots – a particular favourite of my own – then Beckett provides these in abundance, as well as deeply personal stories about the nature of humanity." – Charles Packer, Sci-Fi Online
"In his introduction to The Turing Test Alastair Reynolds expresses the hope the collection will bring Beckett, "this singularly underrated writer", a wider audience.  Reynolds lengthy and encomiastic piece offers useful insights into his fellow author's work and concerns.  My only disagreement with Reynolds is his assertion that Beckett should "already be on the radar of anyone who professes concern for science fiction as a literary form."   Beckett should, in fact, be on the radar of anyone who loves short fiction and anyone looking for evidence that the short story remains a vital form for addressing the uncertainties, changes, problems and possibilities of the modern world." – Andrew Hedgecock, Interzone
"What makes this collection particularly special in my view is the recurring themes that pop up in various stories. This doesn't make any of them repetitive or derivative, but makes them somehow familiar and give them more depth. "The Turing Test" and "We Could Be Sisters" feature the same character, while the concept of 'shifters' who travel between realities also appears in "Jazamine In The Green Wood". "Monsters" shares the same premise as "Sky And Sea", whose character is similar to one in "Dark Eden". "The Perimeter" and "Piccadilly Circus" also feature the same character while "Valour" and "La Macchina" appear to share a common background. The overall effect is one of harmony. I can only echo my opening paragraph. Elastic Press make fantastic anthologies." – Gareth D Jones, SF Crowsnest
"These are almost contra-Libertarian stories, in that unlike many American fantasies of a simpler—less regimented—society, Beckett realizes that as our world, even our universe shrinks, so we become more and more known to the various authorities, companies and individuals who have a stake in information-gathering and application, and who use it for good or ill—for Beckett does not necessarily endorse or condemn this trend; it simply is, he implies. […] Like a British Philip K. Dick, with whom Beckett has been compared, the protagonists of these stories, whether they inhabit bucolic colonies, dark Edens, or world-spanning metropolises, must cut through the (often) literally shifting nature of reality to strive to understand their place in the universe." – Colin Harvey, Strange Horizons
Another review from David Hebblethwaite is here.