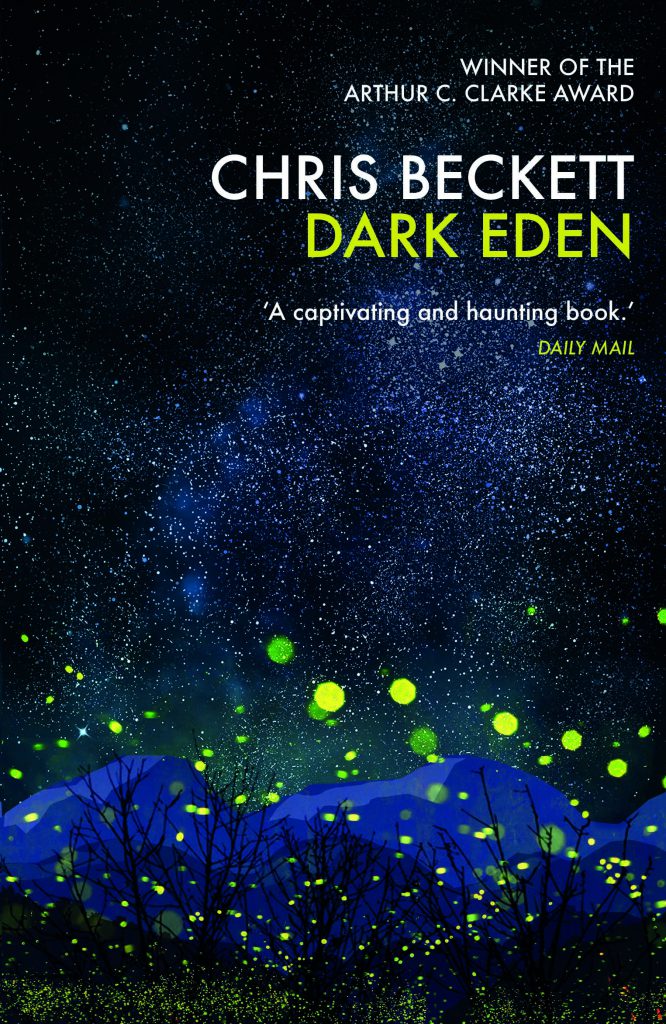 EARLY BLOG REVIEWS FOR NORTH AMERICAN EDITION HERE.
"a captivating and haunting book." Harry Ritchie, Daily Mail
"dazzlingly inventive… superbly well paced and well written… packed with ideas." A N Wilson, Reader's Digest
"..a stunning novel and a beautiful evocation of a truly alien world."  Alison Flood, Sunday Times.
SUNDAY TIMES SF NOVEL OF THE YEAR, 2012.

WINNER OF ARTHUR C. CLARKE AWARD.
Five hundred people live in in single community in an enclosed valley on the sunless planet Eden where, over a century ago, their two ancestors were marooned.
Calling themselves Family, they still cling to the hope that one day someone will come and bring them back to Earth, where light and heat does not come from trees, but from a bright star in the sky.
John Redlantern defies Family's most sacred traditions and leads a small
group of followers out of the valley and across mountains that are not only covered in snow and ice, but are completely dark,  in search of wider lands.   It had to happen but it comes at a terrible price, for it brings bloodshed and division into the world.
A novel about how people relate to the past and how they move forward into the future..
Published by Corvus in UK, Broadway in US.  Also available in French, Polish and Russian

Paperback: Amazon UK /  Amazon US /  Amazon Canada
Kindle edition (UK)
Polish edition (Ciemny Eden)
Russian edition (во тьме здема)
Reviews:
"… A classic theme, beautifully told."  –  David Langford, in the Sunday Telegraph. [Whole review]
"…Written in an extraordinary vernacular, this is a stunning novel and a beautiful evocation of a truly alien world.  I have thrust it on countless people this year and they've all loved it."  Alison Flood, in the Sunday Times.
"… Human plight and alien planet are both superbly evoked in a captivating and haunting book." Harry Ritchie, in the Daily Mail.  [Whole review].
"Eden is dark because it's in outer space, beyond the solar system.  A colony of human beings is marooned there…  The world of these twilit unhappy people is brilliantly brought to life by Chris Beckett, a dazzlingly inventive science fiction writer.  As well as being superbly well paced and well written, the book is packed with ideas: about how societies cohere, and the place of memory, religion and ritual in social organisms.  Above all it is haunted by a sense of yearning for where human beings belong…"   –  A.N. Wilson, in Reader's Digest
"Like his previous novel, The Holy Machine, Chris Beckett's Dark Eden is a superior piece of theologically nuanced science fiction. The ironically named Eden of the title is a planet where, six generations previously, a pair of humans called Tommy and Angela were stranded, awaiting their three companions who had returned to Earth to bring help. After 163 years, incestuous procreation has led to a large "Family" prone to genetic disorders and intellectual atrophy, with a vestigial legal code they know was never followed by their forefathers and a deteriorating oral culture determined to hang on to memories of things called lecky-trickity and RayedYo that none of them understands… [read whole review]"  – Stuart Kelly, in the Guardian.
"WHEN my boss hands me a copy of Dark Eden and says the author is well worth interviewing, my heart sinks. I don't like science fiction. I like my novels to be about 'real' people doing real things in the real world. No rockets, robots or alien invasions for me, thanks. I decide to read the first couple of pages and skim through the rest. But to my amazement, I'm completely hooked by page two, and devour the whole thing in a few greedy sittings.  Dark Eden is a fantastic book, in every sense of the word…" – Emma Higginbotham, in the Cambridge Evening News
"…Chris Beckett sets his third novel, Dark Eden, on a distant planet where the 532 descendants from a wrecked spaceship have regressed both physically and intellectually. They eke out a dismal existence under geothermal trees, in a barely hospitable valley, until a young group decides to break "the laws of Eden" and the hierarchical systems. Beckett provides a dark and compelling platform for a commentary on the nature of power and the need to make hard short-term decisions for long-term benefits." – Colin Steele, in the Canberra Times [Whole article]
"…an excellent novel, with great characters and plot, which demonstrates quite remarkably just how quickly knowledge can be lost and mythology can develop when human society degenerates." – David V. Barrett, in the Fortean Times.
Online reviews:
Kate Atherton, 'For winter nights' : '…one of the most extraordinary novels I've read in quite a while..'
Anthony Jones, SF Book Review : '..an incredibly rich and complete world full of characters that come alive amidst the pages of the book… The quality of the writing is superb…  I loved how complete this book feels…  a literary tour-de-force that succeeds on every level…'
Adam Whitehead, The Wertzone: '…a superb novel about ideas, the struggle to survive and the dangers of blind faith…'
Eddie Robson, SFX: '…The novel… constantly questions its own propositions, creating a rare level of complexity…'
'Libris leonis': '…a fascinating, intellectual and ground-breaking novel…'
'Lucretia', 'ARRSE' (Army Rumour Service!): '…this exciting and well written sci-fi novel…'
John Redfearn, Bookgeeks: '…If Jean Auel and William Golding got together and wrote a book this could be it. The cover's great too!'

Falcata times: '…a story that really does grab you from the first page to the last…'
Valerie O'Riordan, Bookmunch: '…a character study of unconscious political ambition…'
Liviu Suciu, Fantasy Book Critic: '…excellent literary sf that I can easily see shortlisted for both genre and mainstream prizes…'
Speculative Fiction Junkie: '…It has vaulted into the list of my all time favorite books and it is easily the most important book ever reviewed on this site.'
Martin McGrath, Vector:  '…a psychologically rich, morally tangled and intelligently written novel…'
Henry Northmore, The List:  '…A fascinating, incredibly clever and riveting read…'
Librarianaut: '…The moral ambiguity of everything in this book makes almost everyone sympathetic. John Redlantern is the kind of quintessential frontier-pushing explorer, and this story doesn't just hold that up as a model of what people should be, but how that can break people…'
Screaming Planet: '…a lovely meditation on the mature of humanity…'
Tudor Ciocârlie, Galileo Online (In Romanian).
Lidija Beatović, Klub Knige (in Croatian).
Sophie, Page Plucker: '…Dark Eden is a wonderful book that works on so many levels; as an exciting adventure, a creepy sci-fi tale or even a sociological study. I loved it, and if you like a book that makes you think, you should too. Five stars.'
Rahul Kanakia, Strange Horizons:  '….Despite its flaws, it's one of the most imaginative lost colony stories I've ever read.'
Paul Di Filippo, Locus: '…Beckett's award-winner is a type of tale instantly recognizable within the genre. But it's done so splendidly it feels brand new and remade…'
John, 'Comic Crits': 'There's no finer feeling than being fully engaged with a writer at the top of his game.'
Erin Golsen, Biblionomad: 'This is what science fiction is all about.'
Odo, Sense of Wonder (in Spanish): 'Una de las mejores novelas de ciencia ficción de lo que llevamos de siglo'
Mitch Edegeworth, Grub Street: 'What Beckett gets absolutely pitch perfect is the claustrophobic sense of Eden: the darkness, the enveloping cold, the rigid tribal laws and the inability to escape Family, to go anywhere else, do anything different or find anything new.'