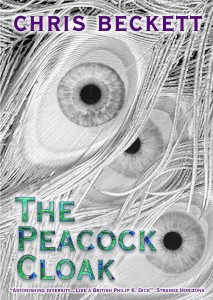 '….another bracing assortment of tales told with a jaundiced eye but compassionate heart…'  James Lovegrove, Financial Times.
A new collection, published by the excellent Newcon Press.  It includes all the stories  written since the publication of The Turing Test.
The following are the 12 stories in the order in which they appear in the book.  The links will take you to miscellaneous thoughts about the stories, what they mean to me, and/or where they came from.  Personally, I'd read the stories themselves first.
Atomic Truth
Two Thieves
Johnny's New Job
The Caramel Forest
Greenland
The Famous Cave Paintings on Isolus 9
Rat Island
Day 29
Our Land
The Desiccated Man
Poppyfields
The Peacock Cloak
The cover design is based on the illustration  by Eugene Kapustiansky for the Russian translation of the title story which appeared in Esli magazine.
Order:
Reviews:
"…another bracing assortment of tales told with a jaundiced eye but compassionate heart.
"The influence of Ray Bradbury hangs over the book like a benign ghost. "Atomic Truth" is a reworking of Bradbury's "The Pedestrian", depicting a near future in which everyone is absorbed in the virtual worlds of their "bug eye" glasses, the only exception being a madman; and two stories set on a newly colonised planet, Lutania, echo The Martian Chronicles.
"That said, The Peacock Cloak is marvellously British in outlook, while Beckett takes the parochial and makes it universal in this fine, intelligent collection, evidence of an undeservedly underrated talent."  – James Lovegrove, Financial Times
"…a fabulous book that kept me entertained throughout…"  Gareth D. Jones, SF Crowsnest [Full review here.]
"…There are two things that strike you when you have finished reading this collection. The first is that you appreciate just how clever Beckett's writing is. The second is simply appreciating how good a collection this is…"  Ian, Simpson, The Forgotten Geek [Full review here.]
"….an audacious writer, not afraid of examining big issues, but always through the humanising lens of fully rounded characters, whether they be a downtrodden husband making a life-changing decision after meeting a visitor from another dimension, a loner coming to the end of his posting on a bizarre alien world, or a pair of thieves suffering the consequences of their greed on a far-future Earth. The two standout tales are "Rat Island", about a boy's attempt to come to terms with his father's suicide against a backdrop of global despair, and "Greenland", which portrays an overpopulated future Britain and the plight of a refugee forced to submit to a horrific scientific experiment in order to ensure his family's survival. Unmissable.""   Eric Brown, The Guardian.
"…The collection ends with the title story, another allegory. Fabbro created the virtual universe of Esperine and placed seven copies, one exact, Tawus, and six distorted, of himself within its garden wilderness. For millennia there has been rebellion and war. The end game approaches. Paradise Lost, the Garden, God, the rebel angel… reconfigured into SF. A beautiful, ambitious and reflective story and a fitting note on which to end…"  Gary Dalkin, Amazing Stories.
"Each story is gripping in its own way, and it was difficult to pick out just a few to showcase here…"  April Disney, SFrevu.
"….one of our finest SF writers. His stories are always beautifully constructed, but at their hearts, there is always something unnerving…"  Andy Sawyer, Strange Horizons.
"…Chris Beckett is an angry writer and we should be grateful for it." Martin McGrath, Vector.
"Beckett's authorial potential…has now blossomed into a master's status."  Paul di Filippo, Asimov's SF.