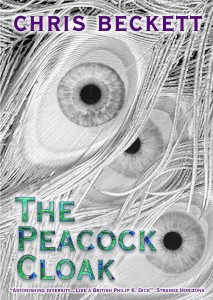 I'm really excited to announce my new short story collection, to be published by the excellent Newcon Press.
Here's the front cover, based on the image created by Eugene Kapustiansky for the short story of the same name (first published in Asimov's SF), when it appeared in translation in the Russian SF magazine Esli.  I love it!
'The Peacock Cloak' concludes the twelve stories included here.  Among the others are 'Atomic Truth', 'The Famous Cave Paintings on Isolus 9', 'Johnny's New Job', 'Day 29' and 'The Desiccated Man'.
I'm very proud of this collection, and Ian Whates and Newcon Press are doing a beautiful job of it.  It will be coming out at Easter.
More details will follow.