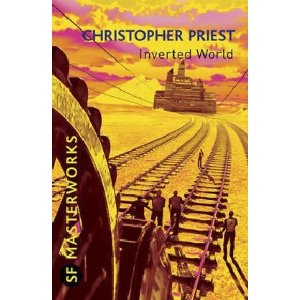 Feeling that I would like to steep myself a little more in the history of the genre in which I write,  I've been buying books in Gollancz's SF Masterworks series, and have just finished this one which I had never come across before.   The cover sold it to me, and more than most covers do, sums up what the book is about.
Priest's own website includes a scathing review of this book by Martin Amis (complete with a spitefully gratuitous spoiler),  pointing out the wild implausibility of the story.   Amis also suggests that a 'courteous editor' would have reduced the first 100-odd pages to more like 20.
It's true that there are a lot of holes in the story.  It isn't plausible and, even looked at within its own terms, there are obvious questions left unanswered (why, when the inhabitants of the city are constantly interacting with the people around them, has no one in the past 200 years ever thought of asking the locals where they actually are?)
But the central image is incredibly compelling.  A city is perpetually being very slowly hauled along railway tracks that must be laid ahead of it, and then taken up again after it has passed.   It must keep moving forward to escape annihilation which is never far behind it.   Surveyors go out ahead of it (or 'up future' as the characters in the story call it, for they conflate distance and time and measure their lives in miles) to try and work out the best route to follow.    Others ride out from the city to recruit locals to labour for them… and to bear them children, for the city does not produce enough girls of its own.
Amis' comment about the length of the first 100 pages misses the point.   The joy of this book is this central image.  It's very rich in metaphorical possibilities and we need time and the accumulation of detail to let us savour it,  let it soak in, allow us to inhabit it.    One Amazon reviewer mentions that the book prompted a very vivid dream.   Yes, this city on rails does have a feel that is like the odd places we come back to again and again in our dreams, full of meaning, yet not amenable to simply being decoded into a single, simple message.