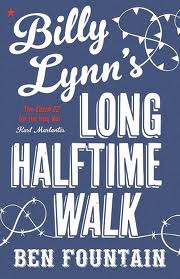 This is the most engaging novel I've read for a while.  It's about the Iraq War but is entirely set in America.  Billy Lynn is one of a group of soldiers who took part in a conspicuously heroic action in Iraq, an action which was fortuitously captured in its entirety by a Fox TV cameraman, and put on the internet.   Billy and his surviving fellow-soldiers are being paraded around the USA (and particularly, some of them notice, to swing-states), in order to boost flagging support for the war with their story of American heroism and military success.
The story is told, in the third person and the present tense, from the viewpoint of 19-year-old Billy himself, who played a particularly prominent role in the famous firefight.   The whole book covers a single day in which he and the other soldiers visit the Dallas Cowboys football stadium, where, as well as a football game, Destiny's Child will be performing, and the soldiers themselves will be taking part in some unspecified event.  They are being followed around by a Hollywood movie producer who has promised to make their story into a film, and is constantly on his Blackberry to well-known stars and funders.
The book is funny, I suppose, though the funny things are so close to being real, that they didn't exactly make me laugh.  What we are shown is the attempt by the well-heeled supporters of the war and of George W Bush, to repackage these young men's terrifying existential experience to meet their needs, personal and political, and the young men's growing awareness of just how much they are being used (and used by people, by and large, who themselves have always managed to avoid being directly exposed to war.)
Reviewing this book in the Guardian, Robert McCrum observes 'The unintended consequence of Fountain's bravura performance is to reduce the experience to words and style. It is… extraordinary writing, but essentially fiction for non-fiction readers.'  This doesn't make any sense  to me at all.   The writing is consciously stylish (and very occasionally I felt it wasn't sure what style it was aiming for), but I felt the experience of these soldiers was rather vividly conveyed, and that Billy himself, a very young man attempting to negotiate the transition to adulthood in quite exceptionally weird and difficult circumstances, was really beautifully drawn.