I live in Cambridge but I have a part-time job in Norwich, so I travel up there by train a couple of times a week.  It's a slow train, stopping at tiny rural stations with names like Shippea Hill and Eccles Road.  If you want to stop at Spooner Row, you have to tell the guard in advance.
The train crosses parts of three distinct landscapes as it makes its way across East Anglia.  The first of these is the Cambridgeshire Fens, as flat and open as the ocean.  (I don't know how Shippea Hill got its name: there's no trace there of a deviation from the horizontal.)   Here and there, you can make out the slight hump of a fen island, and in the middle of the fen section of the journey is the larger fen island where the city of Ely stands.  The word apparently means 'eel island', and that huge cathedral has stood up there on its low hill since the days when the fenland around it really was a vast expanse of eel-infested marsh. After Ely, when the Fens resume in earnest, the occasional house or tree stands up from out of the sea-like expanse of crops and black soil, , and rivers, in a strange inversion of the normal arrangement, flow between raised banks above the surrounding land, with roads below them, and fields and ditches below that.
The second landscape is the sandy Brecks that straddle the Suffolk-Norfolk border.  Much of this is covered by Thetford Forest, one of the largest forests in Britain, but only planted after World War I.  The train passes tranquil little grassy clearings, clusters of pines, paths disappearing between the trees, and the plain brick houses of the Fens begin to be replaced by houses faced with flint.  (You can't see it from the train, but within the forest there is a Neolithic flint mine where flint was already being extracted on an industrial scale some five thousand years ago.)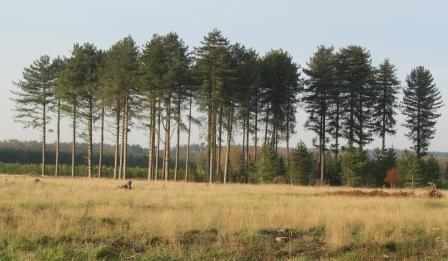 Finally, comes the very gently undulating landscape of southern Norfolk, with its hedges and woodlands.   Herds of cattle and horses graze, as well as large flocks of geese, and sometimes wild deer raiding the crops.  Here and there are small towns of pigs, with rows of identical metal huts laid out in lines on the bare earth.  Near Norwich the river Yare, with its lush green banks, flows alongside the track.
I like my job and I like the people I work with, but when I arrive at Norwich I often wish the journey could go on for longer, and it's the same on the way back.  It's good to come home, but there is a part of me that will always feel most at home by myself on a train, neither here nor there, savouring the world around me but freed from the burden of being part of it.