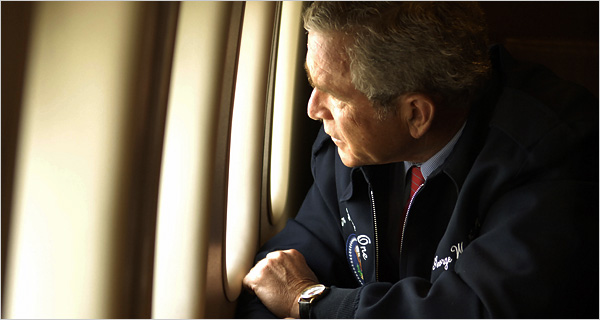 This is George Bush in Air Force One, flying back from Texas to Washington.  He's requested that the plane divert over New Orleans, and he has invited the press to come through from their section of the plane to photograph him looking down concernedly at the city whose lower parts have now been flooded for two days, since Hurricane Katrina broke the levees.   If any single image captures the mediocrity of this man, this is surely it.   This was not a leader, but a dull little rich kid whose daddy's friends had fixed him up with a job, and provided him with helpers to do the difficult parts.  In this case, even the helpers screwed up.
'You're doing a great job, Brownie!' Bush told the Director of FEMA, the federal agency responsible, but of course as we all know the agency's performance was very far from a great job.   In a curiously telling detail, Douglas Brinkley observes that Brownie was not in fact a nickname that anyone actually used.  The dull little rich kid was trying to suggest a level of engagement that did not in fact exist.
The Great Deluge is an account of what actually lies below him as he gazes down for the cameras: a devastated city, where bloated corpses are floating in the streets, sick and elderly people are dying alone in flooded houses, and thousands are crammed into a sports stadium without adequate food, water or medical attention, waiting for an evacuation which, for no obvious reason, has still not arrived.
There is lawlessness.  Some of the local police have simply abandoned their posts and run.  Women waiting for rescue have been raped.  Looters raid shops not only to steal but in some strange attavistic ritual (of revenge?  of triumph?) to defecate on cash registers and on goods that they can't carry away.  But the lawlessness has been taken by many of those who should be helping the survivors as a reason for treating them all as criminals.  (Another telling moment: a new general arrives in New Orleans to get a grip on the military efforts, and one of his first acts is to instruct is to instruct National Guardsman not to point their guns at people when they're talking to them.)
The very boundary between lawful and unlawful has in any case been blurred.  Is it really looting to break into a store for bottles of clean water, when the only other option is drinking polluted flood-water in which human and animal corpses are floating?  (Is it even exactly looting, I wonder, to steal a TV or some other valuable piece of hardware, when you've lost your home and have no savings to fall back on?)  In the Morial Convention Centre, some gangsters are taking it upon themselves to provide protection for the vulnerable in the absence of any formal forces of law.  Other are just terrorising the weak.
The fact that nearly all the people trapped in New Orleans are black and poor almost certainly doesn't help.   Police officers and Guardsmen frequently treat them with undisguised contempt, and suggest that it is their own stupid fault that they stayed in the city after warnings were given that they should move.  But where would you go, if everyone you know lives in the streets around you, you have no money to pay for accomodation elsewhere and the government, though it can afford to pay for wars on the far side of the world, has provided nothing?  Some people who try to leave on foot are stopped at gunpoint by police from neighbouring areas which don't want to take them in.
It's outside the scope of this book but we know too that other communities which did initially respond generously were quickly to grow tired of the burden of caring for the incomers, and to begin to stigmatise them as lazy and undeserving of help.  In another book I read recently*, a woman relocated to Austin, Texas, describes her children being bullied and stigmatised at school because they are 'people from the storm'.
I wasn't completely enamoured of the way The Great Deluge was written – I could have done without some of the long, folksy biographies of various characters with which the account is punctuated, and the numerous quotations from songs and literature which never seemed quite as apt as the author seemed to think they were – but it provides a detailed and vivid overview nevertheless of what actually happened during that dreadful time, as well as of the things that one would expect to happen in the world's wealthiest country but in fact did not.   I was left with a powerful sense of how quickly we human beings can shut down compassion when it asks too much of us, simply by relabelling our fellow humans as something other than ourselves.
Any one seriously interested in writing or thinking about the future should be reading this book, and books like it.   The way things are going, there are going many more flooded cities before this century is out, many more people who don't have access to food or water, a lot more 'people from the storm'.
*Community Lost: the State, Civil Society, and Displaced Survivors of Hurricane Katrina, by Ronald J Angel, Holly Bell, Julie Beausoleil and Laura Lein.