I've started going to drawing classes, one of my better ideas.  Drawing turns out to be a wonderfully engrossing and calming activity.
I particular enjoy drawing electric-lit scenes in charcoal, a medium that allows you to create a sense of luminousness by covering the paper in layers of grey and then removing it in patches with a putty rubber to create areas of brightness.
This is one of my better efforts so far: a glass ball in front of a lamp.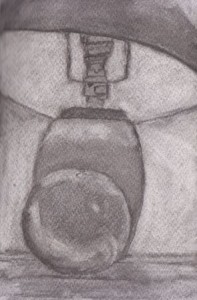 I'm hoping that in due course I might be able to use this sort of technique to draw some of the creatures and trees of Eden, lit by their own luminosity or the luminosity of other organisms nearby.  That's going to be a while though, because it is hard enough drawing what is actually in front of me.
In fact the exact thing that's hard about this kind of drawing is that you must draw what's in front of you, and forget what's in your head.    The only way I could do the glass ball in the picture above (and, let's be honest, I'm pretty damn pleased with it) is by stopping thinking about it as a glass ball and just noticing the various different shades of light and darkness and the shapes they made.