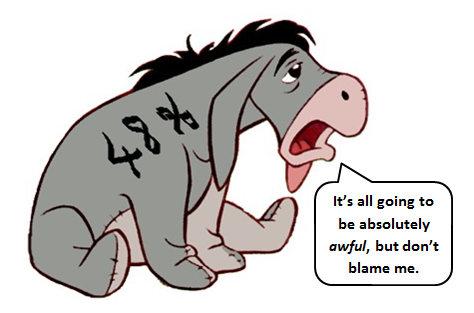 As I mentioned before, I voted 'remain' in the UK's recent referendum, but I am growing very tired of what now I think of as the Brexit Eeyores: the weary, 'I know better' voices predicting economic calamity, lamenting that a vote was ever held on a matter that ordinary people couldn't be expected to understand, and dismissing 'leave' voters as some combination of ignorant, uneducated, racist, or gullible.  I am sometimes reminded of white Rhodesians  telling each other how they always knew the country would go to the dogs if the Africans were given the vote.
One can argue about the merits or otherwise of referendums, but if we were only allowed to vote on matters of which we possessed expert knowledge, then most of us wouldn't be permitted to vote at all.  General elections usually hinge on economic policy and the management of public services, after all, both of which are highly complex and technical matters.  The fact is that, in a democracy, those who possess expertise have to persuade the rest of us that they understand what our concerns are, and have a plan that will help to address them.  You can't just say, 'we know better than you do what's good for you, so do as you're told.'
The key thing here is that, even though all the established political parties, almost all economists, and the great majority of business leaders, supported the 'remain' cause, the majority of the electorate decided to ignore them.  That's quite a consensus to go against!  Why did it happen?  Presumably it is because that wide range of eminent people failed to convince 17,000,000 voters that their concerns were being heard or being addressed.  Dismissing those seventeen million voters as thick, or racist or gullible dupes will not help them with that feeling of not being heard.  And if that feeling isn't addressed, we really are in for some difficult times.
As I say, I'm not an expert but here is one of the best analyses I've read recently of what's going on behind the Brexit vote here and the rise of the likes of Donald Trump.