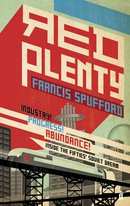 This is a staggeringly original and intricate piece of work, the best and most ambitious book I've read for a very long time.   The author begins by denying that it's a novel, but it reads like one, has diverse and well-drawn characters and is beautifully written.   It's just that the characters are not all linked together into a single big story, and the fictional elements (or semi-fictional, blending real historic figures and real events, with made-up characters and events) are interspersed with factual information about the Kruschev era Soviet state, and in particular its centrally planned economy.  By denying it's a novel, the author gives himself permission to provide this stuff undigested and thereby avoids having to load down his characters with 'As you know Bob…' – type dialogue.  (In short: this 'not-a-novel' strategy is a way of avoiding – or perhaps legitimising – what SF writers and readers call 'info-dumps').
As it happens the info-dumps are just as riveting as the rest of the book, and are incredibly well informed, not only about the Soviet system, but about all kinds of other stuff.   About computers for example.  There is even a virtuoso account of the way that smoking causes cancer inside a cell.
I think it is a novel, though.  The main character in it is the socialist dream, which Spufford convincingly argues survived all through the time of Stalin, right into the Kruschev era and even on to Gorbachev.   These people may have been tyrants, but they genuinely believed in the idea of a socialist economy, directed by reason rather than by blind market forces.    (Why otherwise, he points out, did they not go down the Chinese road and convert the economy to capitalism, while keeping political power in the hands of the Party?)
The book is very vivid on the actual workings of a planned economy: an economy in which, if a machine breaks down in a factory, the company can't just buy a new one, but must apply for one, and this application must then somehow be accomodated in the entire Plan for the entire country.  It is an economy which only works by finding ways of getting round its own rules.
For a little time there, apparently, in the Kruschev era, clever economists, computer scientists and mathematicians thought they might be able to find ways of making this juggernaut not only work, but actually work better than the capitalist countries with their markets.    Having seen the collapse of the Soviet Union, we, in 2011, know this isn't going to work out, living as we do in the age of Russian oligarchs, but they didn't know it then, and thus (as the author observes in an interesting article here)  'An immense overhang of obvious consequences teeters above the events of Red Plenty, invisible to characters. And so the book became a kind of comedy, an unwitting comedy whose jokes don't exist within the world of the story.'
He goes on: 'I want people to laugh (among other things) as they read it. But I don't want them to laugh comfortably, from a position of comfortable superiority, snickering at the deluded inhabitants of the past. I want, I hope for, the nervous laughter of fellow-feeling. We should laugh like what we are: people whom the observers of 2060 will be able to see are naively going about our business beneath our own monstrous overhang of consequences. Whatever it is.'
I suppose history is almost entirely made up of people busying away at projects which, in the end, don't work out.
Incidentally, when I was trying to think of another book which was not-a-novel in anything like this kind of way, a Russian instance came to mind: Tolstoy's War and Peace,  also claimed by its author not to be a novel.