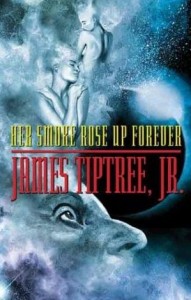 [This piece contains many spoilers!]
James Tiptree, jr built a reputation in the 60s and 70s before revealing that 'he' was in fact a woman called Alice Bradley Sheldon.  I really don't know why I've not explored 'his'/her work before.
These are subtle stories that demand intelligence and attention on the reader's part (I had to read the story 'The last flight of Doctor Ain' twice, for example, before I got it).  Many of the stories deal, in some way, with gender – a preoccupation of mine also – and quite a lot of them deal with male abuse of women.   Interestingly, this is often done from a male perspective.  Sexual desire, frequently and often quite graphically depicted (there are a surprisingly large number of erections in this book), is almost always shown  from a male view.
In 'Houston, Houston, Do You Read?' the main protagonist is a scientist, male but liberal-minded and not exactly hyper-masculine, who is sharing a spaceship with two macho astronauts.  The story captures beautifully captures his male insecurity in their presence, his (well-founded) anxiety that they feel contempt for men like him 'who can manipulate only symbols, who have no mastery of matter' –I know that feeling! – and his grudging admiration for them:
'And for the thousandth time he is obscurely moved by the rightness of them.  The authentic ones, the alphas. Their bond. The awe he had felt first for the absurd jocks of his school ball team.'
And here – a woman, writing as a man, looking at her own gender from the viewpoint of a male character – is the male scientist's take on how woman relate to one another:
'Like ants, he thinks.  They twiddle their antennae together every time they meet.  Where did you go, what did you do?  Twiddle-twiddle.  How do you feel?'
It does look that sometimes.  It really does!  (But I remember, from way back when I was a little child, envying the closeness and intensity of it.)
These are feminist stories, I suppose, but it has to be said that Sheldon's feminism is of a fairly dark and fatalistic kind.  When you learn that poor Alice was to end up killing both her husband and herself with a shotgun – they were found side by side in bed – it certainly fits.  Of the 18 stories in this collection, two depict worlds in which men have died out, one a world in which men are killing all the women, and two have female astronauts kill off the men on board their ships.  One – a wonderfully sensuous piece – has a female creature devouring her male mate.  Three, not counting the men-killing-women one, go the whole hog and wipe out the entire human race.
Part of the reason for the pessimism – part of the intellectual reason at any rate: there are surely much more personal ones – would seem to be a view that we can't escape biology, and that male aggression and the male drive towards dominance are simply biologically determined.  In 'The Women Men Don't See', the main female character observes:
'Women have no rights… except what men allow us.  Men are more aggressive and powerful, and they run the world.  When the next crisis upsets them, our so-called rights will vanish…  We'll be back where we always were: property.  And whatever has gone wrong will be blamed on our freedom, like the fall of Rome was.  You'll see.'
In 'The Screwfly Solution'* (the only Alice Sheldon story I'd previously read) the close relationship between male sexuality and male aggression is subtly altered by biochemical means so that men begin to systematically kill every woman and girl they meet.  It ends up with the feel of a zombie movie, except that, instead of zombies, the apocalyptic killers are the male half of the human race.   In the world of this story, a religious ideology has emerged to justify the slaughter (woman are evil and must be destroyed to fulfill God's will), but Sheldon is clear that this isn't the real cause of the killing at all.  It is simply a cultural rationalisation of what has become, for biochemical reasons, a simple biological imperative.   Cultural beliefs are only the clothes we put on over drives and needs which we can't choose or control.  Since it's the biological aspect of gender which is the bit that can't be changed, it's not surprising the most positive worlds depicted in this book (or at least the most positive human ones) are the ones in which men have died out.
We are the puppets and playthings of biology: that seems to be a fairly constant theme.   'Love is the Plan the Plan is Death' (a beautiful piece of writing, and one of the best stories in the collection) is told from the viewpoint of Moggadeet, a spider-like creature, attempting to break out of the biological program: the Plan.  But the Plan wins. Even the attempt to escape the Plan was part of the Plan itself.
In some of the stories, it is not so much the sexes that are pitted against one another by nature, as two principles: the gentle nurturing principle, the urge to care, versus the ruthless thrusting one, the drive to dominate.   The latter is necessary to survival, and is even sometimes seemingly admired, though it cruelly crushes the former again and again.   In 'We who Stole the Dream', a gentle race of aliens, the Joilani, are horribly and brutally oppressed by humans (in many ways, including sexually: this story includes some of the book's many ugly scenes of sexual violation.)  But, in different circumstances, the Joilani too turn out to be more than capable of embodying the ruthless principle of domination.  (Would a world of only woman really be a gentler place?  Or would some of the women simply step into the roles vacated by men?)
One of the most ambitious accounts here of human beings as simply the puppets of biology is 'A Momentary Taste of Being'.  Seventy-five pages long, this is about first contact with extraterrestrial life, and is one of the stories in the book where gender relations are not the main theme. (Or not exactly: Dr Aaron Faye's intense and incestuous relationship with his idealistic younger sister is fairly central, and the whole story is ultimately about sexual reproduction on an interstellar scale.)   A star ship on a ten year exploratory voyage to Alpha Centaurus has identified a planet with organic life some years travelling time ahead of it, and a scout ship has brought back a specimen of alien life.  'Here we are,' thinks Aaron Faye, as the moment approaches to come face to face with it:
'Here we are, he thinks, tiny blobs of life, millions and millions of miles from the speck that spawned us, hanging out here in the dark wastes, preparing with such complex pains to encounter a different mode of life.  All of us, peculiar, wretchedly imperfect – somehow we have done this thing.  Incredible, really, the ludicrous tangle of equipment, the awkward suited men, the precautions, the labor, the solemnity – Jan, Bruce, Yellaston, Tim Bron, Bustamente, Alice Berryman, Coby, Kabawata, my own saintly sister, poor Frank Foy, stupid Aaron Faye – a stream of faces pours through his mind, hostile or smiling, suffering each in his separate flawed reality: all of us.  Somehow we have brought ourselves to this amazement.  Perhaps we really are saving our race, perhaps there really is a new earth and heaven ahead…'
It's that feelgood moment towards the end of a movie when something wonderful has been accomplished, and the camera pans round the faces of the motley crew of characters who have somehow, between them, made it happen against all the odds. But this movie doesn't end here, for Faye couldn't be more wrong.  What's really brought them there is a biological system in which the whole of Earth's evolutionary history is simply a necessary component.  Having come out into space and performed their function, human beings, like the threshing tails of sperms, cease to have a purpose at all.
(Biology does not always come out so badly here, though.  In several stories, the two principles locked in struggle are simply life and death, with death, however destructive, however frightening, the necessary and inevitable driver for life.  In two of these stories -'On the Last Afternoon' and 'Slow Music'- characters have a choice between staying with the cycle of death, sex and suffering, or escaping to a sexless, disembodied, eternal life among the stars.  The former seems the braver choice.)
One of the most poignant stories for me – and also one of the most beautifully accomplished – was 'Your Faces, O My Sisters!  Your Faces Filled of Light!'* It begins by presenting two overlapping but incompatible reality frames, whose relationship with one another is initially unclear.  In one frame, a wonderfully cheerful young woman makes her way on foot across an America that is entirely peaceful and safe.   'Heyo, sister!' she greets everyone she meets, entirely confident that they will be benign and interesting and fun to be with, 'Any mail, any messages?  Des Moines and going west!'  In the other frame, the inhabitants of ordinary 1970s America go about their own dull suspicious lives, puzzled, irritated or concerned by an odd young woman who talks to them in a funny way, and calls everyone 'sister' whether they are men or women.  The link between the two frames gradually becomes apparent, until eventually they violently collide in a sickening scene which I found really heartwrenching.
That said, a close rival for it, for sheer painfulness, was 'With Delicate Mad Hands'.   This is a much less accomplished story in technical terms (one problem being that a large chunk of back story is dumped down into the middle of it which is very much 'told' rather than 'shown' –  a fault that's present in one or two other stories here – and there's none of the clever scientific plausibility of 'The Screwfly Solution').  A woman astronaut, born with a repulsive pig-like nose, has been abused and rejected throughout her life: male astronauts routinely shove her underpants over her head while they rape her, so they don't have to look at her face.  She became an astronaut because of a drive she has had since childhood to find her way to a 'pig world', somewhere in space, where she'll belong.   And, after she's murdered her male colleagues, she finally finds it.  It is a hidden sunless planet with lavender skies, inhabited by cute unthreatening aliens, but unfortunately deadly to humans due to high radiation levels.  Here she finds her true soulmate in a piglike alien who has loved her, and been calling telepathically to her, all her life.   They die in each other's arms, she because of the radiation, it (or 'he' as she decides to say), because, in its love, it draws all her pain telepathically onto itself: Liebestod in My Little Pony land.
I found this clumsy, agonised story very uncomfortable.   It was the escapist fantasy of a horribly abused and lonely little girl, and reading it was like watching the author stripping naked, much as its protagonist, Carol, actually does strip naked, to satisfy their curiosity, in front of the aliens peering in through the windows of her ship.
It's funny (both in the sense of a joke, and in the sense of 'strange') to think that when these stories first came out, they would have been read by a predominantly male audience, and that most of them would have been believed to have been written by a man.  Tiptree was like an undercover agent, operating behind enemy lines.
A strange, disturbing and brilliant collection.  The author is fascinating too.  I have already ordered her biography.
Her smoke rose up forever, on Amazon UK
* These two stories were actually published under Alice Sheldon's other, female, pseudonym of Raccoona Sheldon.